Challenge Highlights / Challenge Tour
Following the Sandakan Death March track
(12 Days 11 Nights – Full Tour
9 Days 8 Nights – Short Tour)
TYK Treks along the route of the infamous Sandakan death marches honour the many hundreds of prisoners of war who were force-marched through the jungle from Sandakan to Ranau in 1945. By following in their footsteps, we hope that all those who walk in their memory will gain an appreciation of their indomitable spirit, their bravery and their determination.
NOTE:
TYK treks along the Sandakan Death March route are not for those whose aim is to travel from point A to point B in the fastest possible time. We do not conduct 'fast, elite' treks, or set 'records'. TYK considers that to do so is an insult to the memory of those who walked this route in 1945 and perished. The normal daily schedule has been carefully designed and paced to provide an all-round experience, combining Sabah's natural beauty with hard physical and mental effort, and historical, cultural and spiritual elements, in what is, essentially, a challenging pilgrimage to retrace the footsteps of some of World War 2's finest heroes. This program also offers an excellent opportunity for common interest groups to develop team building. The various challenges to be overcome each day allow participants to forge strong bonds, as they pull together to discover the true meaning of 'mateship'.
Trekking Options
The 12-day tour follows the Death March route from beginning to end, from Sandakan to Ranau, and includes a very interesting two-day trip through Sabah's interior to Labuan Island, where the POWs are buried in the Commonwealth War Graves Cemetery.
The shorter 9-day tour begins on Day 1 and ends on Day 9. It does not include accommodation in Kota Kinabalu, or the extension to Labuan. Road transfer from Kundasang to Kota Kinabalu CBD is included. This option is recommended for people who have limited time, and for groups wishing to incorporate the trek only into their own itineraries.
The six-day trekking section from Bauto to Ranau covers the most challenging section of the Sandakan-Ranau Death March Track. There are two daily trekking programs available: Challenge Highlights, which involves a half-day walk each day, and Challenge, a full-day walk. Highlights walkers can undertake the full-day trek if they wish, provided they are fit enough.
Both programs have been especially designed to show the visitor more of what Sabah has to offer, combining hard physical effort with sightseeing, cultural and historical elements. TYK treks not only cater for the more adventurous traveller with a fairly high level of fitness, they also have great flexibility, allowing all trekkers to choose their own level of physical challenge each day.
Basic Itinerary and costs, 12-day and 9-day treks
Note: Information and instruction sheets, along with a detailed daily schedule, will be emailed to trekkers, once the booking is confirmed.
Important:
Challenge tour participants aged over 55 years, or those carrying additional weight, are required to provide a statement from a medical practitioner attesting that they have achieved a level of fitness necessary to walk for at least three hours, uphill, in humid, tropical heat. This is a minimum requirement. We advise trekkers not used to tropical conditions to consider arriving a day or two early, to help acclimatise. All walkers can choose to omit a sector, or sectors, on any day. However, the Challenge Highlight Walk scheduled for Day 6 must be completed, as there are no easy evacuation points. The final decision regarding fitness of any participant on any sector on any day lies with the trek leader. While trekking, the accommodation for all tours is in comfortable rest houses, with bathroom facilities. It is essential, in tropical heat, for trekkers to be sufficiently rested at the end of each day. Trekking times are approximate and are subject to weather and track conditions and physical fitness of the party.
B =breakfast, L = lunch, D = dinner
Day 1: (D)
Your TYK adventure begins with your arrival in the early afternoon at Sandakan Airport, where you will be met by a member of the team and transferred directly to the Sandakan Memorial Park for a familiarisation visit. If you arrive in Sandakan earlier, you need to make your way to the airport to meet the group at the appointed time. At the Park, which occupies part of the old POW camp site, there is ample time for a specialised conducted tour, and to inspect the various relics as well as the beautiful commemorative pavilion. After checking in to Four Points by Sheraton Hotel, on the waterfront, the rest of the day is free to explore the local markets, stroll along the waterfront, or visit the local Museum, which houses an interesting collection of black and white photographs, taken by American adventurers in the 1920s and 30s. At 7.15pm, meet poolside on Level 13 for a BBQ dinner. This will be followed by a briefing in the upper lobby.
Day 2: (all meals)
After an optional early morning walk to the nearby markets to see the day's catch arrive, return to the hotel for buffet breakfast. Transfer to Sepilok to visit the world famous Orang Utan Rehabilitation centre before undertaking a 2-3 hour 'warm-up' trek through a beautiful jungle reserve, followed by lunch at a lodge and a short boat ride through pristine mangroves. You may see proboscis monkeys in the wild while trekking. Transfer by vehicle to the heritage-listed St Michael's Church with its magnificent stained-glass Windows of Remembrance. It was here that many of the POWs spent the night before they walked the eight miles to the Sandakan Camp. Remainder of the day is free. Dinner at a local restaurant.
Day 3: (all meals)
After an early breakfast, check out and transfer by vehicle to Bauto, where the the six-day trek begins with a walk through beautiful jungle near the Labuk River, incorporating a fairly challenging ascent and descent. A packed lunch is provided. Highlights can omit the afternoon sector. After the Day's walk, transfer by road to the comfortably appointed Forestry rest house, the group's accommodation for the next three nights. Dinner is at the rest house, where a cook, especially employed by TYK, provides and nourishing meals, using fresh local produce. If the group is small, dinner will be at one of the local restaurants. Full trek 7-8 hours'. Easy to moderately hard, with some challenging sections, especially in hot weather.
Day 4: (all meals)
Today's trek begins with an ascent through secondary jungle. After lunch, there is a challenging climb along a series of roller-coaster ascents and descents, followed by a long flat stretch and a reasonably steep and often slippery descent. If the weather is hot, this sector will test your endurance. It may be necessary, in extremely wet or hot conditions, to curtail part of the afternoon program. Highlights trekkers can select whichever sector suits them best. Full trek, 8-9 hours. Highlights, approximately 3-4 hours. Moderate to hard grade.
Day 5: (all meals)
This is a long but fairly flat walk through jungle, farmland and estates, with several river crossings. After lunch, the afternoon sector continues through more farmland to the Taviu River. Estate tracks, passing through small farms and cultivated land, have replaced the uncharted, uninhabited virgin jungle of 1945, Highlights can select whatever sectors suit them. Full trek 8 hours. Easy to moderately hard, depending on weather conditions.
Day 6: (all meals)
The trek continues for Challenge walkers with a fairly flat walk along the Taviu valley, via village and farm roads and crossing two rivers, before reaching a small stream that leads to the foot of Taviu Hill, now part of a Class 1 forest reserve. Entry into this area requires express permission from the Sabah Forestry Department. The short, but fairly taxing climb to the summit is the only authorised route, and the only one sanctioned by Sabah Forestry. After lunch at a local restaurant, Highlight walkers join the morning walkers for a relatively flat and pleasant afternoon walk, through mainly cultivated land. After a visit to Paginatan village, a key POW staging post, we transfer to Sabah Tea Plantation an a uniquely Sabah experience – a two-night stay in a purpose-built Rungus-style longhouse. Dinner is in the Plantation dining room, which has a fine view of Mt Kinabalu. Full trek, 8 hours' hours duration; Highlights trek, 3 hours. Easy to hard grade.
After admiring the early morning magnificence of Mt Kinabalau while partaking of a leisurely breakfast, there is a short transfer to begin an easy walk through forested/cultivated land, before a short ascent to Quailey's Hill Memorial, erected in honour of Private Quailey, who was murdered near there on the first death march. After lunch, the route continues on to Muruk for Challenge walkers, following estate and foot tracks and passing through small farms and forested sections. Full trek, 6-7 hours' duration. Highlights, 3-4. Easy to moderate grade, with small uphill sections. Overnight at the Plantation.
Day 8: (all meals)
After a short road transfer to Muruk, Challenge walkers begin a long, fairly steep, but well-graded ascent up Marakau Hill, a climb that claimed the lives of a number of POWs, either on the marches or on one of the rice-carrying trips. At the summit, Challenge walkers meet the Highlights walkers who have been transferred by vehicle, to join the trek to the main Ranau POW camp site. After lunch, visit The Last Camp, where the 183 survivors of the death marches died in a secluded but beautiful valley. Transfer to Kundasang through mountain scenery for an overnight stay at the Mt Kinabalu Heritage Resort and Spa, overlooking beautiful Mt Kinabalu. Full trek, 5-6 hours' duration, moderate to hard grade, with extensive uphill section. Highlights trek, 3-4 hours.
Day 9: (all meals)
Today commences with an early morning private visit to the magnificently restored Kundasang War Memorial for a time of quiet reflection. After breakfast, those on the 9-day shorter tour will transfer by road to Kota Kinabalu for their flight home or perhaps an overnight stay, while the 12-day guests depart for Tenom, a rural town three hours' drive south of Ranau. The road to Tenom passes through scenic mountain terrain and picturesque farmland, to the afternoon's destination – a highly progressive, integrated mixed-farm in the Padas River Basin. Here you will be treated to a late lunch, cooked by your hosts from organic produce produced on the property. After a tour of the farm, return to Tenom town before checking into the Perkasa Hotel, for dinner and an overnight stay.
Day 10: (B)
After an early breakfast, the journey continues on a narrow-gauge train for Beaufort, passing through the picturesque and otherwise inaccessible Padas Gorge. On arrival at Beaufort, where Australian soldier Tom Starcevich won a Victoria Cross, there is a one-hour drive through rural countryside to the coast, to board a fast motor-boat for Labuan, a duty-free island. On arrival, check into the five-star Dorsett Grand Hotel for an overnight stay. Remainder of the afternoon is free until
4 pm
, when there is a short tour of the island. Dinner is at a top local restaurant.
the day begins with an early morning visit to the Commonwealth War Graves Cemetery, where the remains of Sandakan's POWs are buried, followed by breakfast and some free time to shop or relax before an
11 am
departure to board a motor boat for the mainland, Overland transfer takes you to Kota Kinabalu, to enjoy the luxury offered by the five-star Hyatt Regency Hotel – the perfect way to end your trip.
After breakfast, check out of the hotel to return home, follow your own arrangements, or take advantage of TYK's suggestions, including a stay in Kiau Village, followed by Mt Kinabalu Climb. For more suggestions see below.
Departure dates and costs for treks in 2019
The Premium treks in August are accompanied by Lynette Silver and are a must for those who want to learn more about wartime events in Sabah. Lynette's knowledge and expertise in this area, officially recognised by the Australian, Malaysian and Sabah governments, has been amassed over a period of twenty-five years and is unparalleled. Trekkers not as interested in wartime history can opt for a locally-led trek. The minimum number to form a group is four. Other fixed departure dates are in May and November, but standard treks can be done with a local guide throughout the year, provided there are at least four participants.
a) PREMIUM Treks led by Lynette Silver
TOUR 1:

THIS TOUR IS BOOKED OUT
Sandakan Day Trek, 16-27 August (optional arrival in Sandakan on 14 August, to incorporate the Sandakan Day service on the morning of 15 August)
TOUR 2 : THIS TOUR IS NOW OPEN FOR BOOKINGS

Remembrance Day Trek, 3-14 November

These tours, which follow individual POWs along the death march track are designed especially for history lovers who want an optimum experience. They offer exclusive and premium coverage with special inclusions not available on any other tour.
Other departure dates
Private groups wishing to have individual departure dates need to discuss options with TYK. Lynette Silver is generally not available to accompany private groups.
COST: (Minimum of 8 persons)
Full 12-day tour
(per person, twin share)
Short 9-day tour
(per person, twin share)
AUS$3,200
AUS$2,800
Above rates led by Australia historian (Ms Lynette Silver)
Airfares between home port and Sabah are not included.
The single occupancy rate is an additional $650 for the 12-day trek tour, and $420 for the 9-day.
Tour prices may be subject to currency fluctuations.
A $100 booking fee applies to Australian bookings.
Standard booking conditions apply.
---
b) STANDARD Treks led by a local guide. This tour offers standard historical input.
NOTE: For details on an 8-day budget trek, available to individual groups requiring minimal historical input and budget accommodation, see the Tours menu.
TOUR 3: 2nd Death March Anniversary Trek, 28 May-8 June

OTHER TOURS: Flexible Departure Tours (dates by arrangement)
NOTE: For details on an 8-day budget trek, available to individual groups requiring minimal historical input and budget accommodation, see the Tours menu.
COST: (minimum of 4 persons)
Full 12-day tour
(per person, twin share)
Short 9-day tour
(per person, twin share)
AUS$2,950
AUS$2,650
Please note:
Airfares between home port and Sabah are not included.
The single occupancy rate is an additional $650 for the 12-day trek tour, and $420 for the 9-day.
Tour prices may be subject to currency fluctuations.
A $100 booking fee applies to Australian bookings.
Standard booking conditions apply.
FOR DETAILS ON HOW TO BOOK IN AUSTRALIA AND OVERSEAS CONTACT
TYK ADVENTURE TOURS SDN BHD
C/N 477861-U L/N KKKP3443
ot 38, 2nd Floor, Damai Plaza IV,
88300 Kota Kinabalu, Sabah, Malaysia.
Tel : (6088) 232821, 238702
Fax : (6088) 232827
e-mail : [email protected]
or
General Information
Minimum number:
The minimum number of trekkers required for a group led by Lynette Silver is eight. For a locally led trek it is four. If the group number for an August departure date that Lynette accompanies falls below 8, the trek will be led by a local guide, provided there are at least four participants. The final payment will be adjusted accordingly. The fixed departure dates in May, August and November enable individuals and small parties to form a group.
Non-trekkers:
Alternate sight-seeing programs are also available for groups of non-trekkers who wish to join family or fiends but wish to opt out of the more strenuous sections between days 3 and 6. If in Australia, please ask TYK to put you in contact with Lynette Silver, to discuss this option.
Tailor-made treks:
Itineraries for common-interest groups can also be tailored to suit individual requirements. A more challenging program, which completes the walking section in five days, is also available for private groups with an excellent level of fitness. However, if selecting this option, be aware that trekking in tropical heat can be very taxing.
Cycling: TYK also offers a cycling tour along the first section of the POW route, from Sandakan-Bauto (click here for details) ; customised tours to climb Mt Kinabalu and Mt Trusmadi, and specialty trekking, including the historic Salt Track and expeditions for botanists and nature lovers. (see www.tykadventuretours.com)
Accommodation while trekking:
Overnight accommodation while trekking is basic but comfortable, with good sanitation and bathing facilities, fans and/or air conditioning, so essential for a good night's sleep in a climate that is often hot, very humid and frequently subject to violent thunderstorms in the evening. After twenty-years of jungle trekking, TYK is only too aware that fatigue not only reduces the enjoyment of the trekking experience, it also leads to lack of concentration and the risk of accidents. Although camping is possible, it is no longer offered as a standard option due to a number of factors, including the fierce tropical rainstorms storms that can sweep in without warning, high heat and humidity, poor (or non-existent) sanitation facilities in rural areas, and a lack of suitable campsites with safe drinking water.
The Route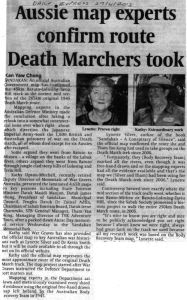 The track pioneered by Tham Yau Kong and Lynette Silver in 2005 was based on the route of the death marches, retraced and recorded by the Australian Army War Graves team while recovering bodies in 1945. Copies of this map, preserved in Australian Archives, are on public display ay the Australian Government Commemorative Pavilion at the Sandakan Memorial Park and at the Quailey's Hill and Kundasang War Memorials.
In 2011, the accuracy of this route was challenged by an Australian tour operator, who claimed in media interviews that the path being followed by trekkers was incorrect, and that the death march track, after crossing the Telupid River, had passed through the village of Miruru in the Labuk Valley. His claims were based on a map, appearing in a book privately published in 1999. Compiled by the author from inadequate and incomplete information, this map had then been used to create another, equally erroneous map that was used in good faith by a local group organising a commemorative march in 2005.
To clarify the situation, Australian Army historians and Defence Department mapping experts began a thorough investigation at the request of the Australian government. A search of archival material was undertaken to ensure all available evidence was located and examined. This included the 1945 map produced by the War Graves team, other 1945 maps also showing the route, the search teams' diary entries naming rivers crossed and distances travelled, records showing the locations of bodies found along the track, and information obtained from five local people who had used the track regularly between late 1944 and August 1945. In April 2012, the experts released their findings in the form of an official Defence Department map, endorsed by the Commonwealth of Australia. It clearly shows that the route, established by Tham Yau Kong and Lynette Silver in 2005, is correct. There was no evidence to suggest that the death march route had deviated from the path mapped by search teams in late 1945.
Sabah's Tourism Minister, senior government officials and Tham Yau Kong were formally presented with copies of the Defence Department map by a representative of the Australian Government at Sandakan on Anzac Day 2012. A copy is also on display at the Sandakan Memorial Park and is on-line.
However, the route shown is an approximation only and is not intended for use as a trekking map. To follow in the footsteps of the prisoners of war requires additional and specialised local knowledge – expertise that the highly experienced TYK team has acquired and refined over the years. Consequently, TYK is confident that its trekkers follow, as closely as possible, the path taken by the POWs in 1945.
Note: Owing to restrictions prohibiting entry into the highly protected, Class 1 Forest in the Lolosing River area (see home page for details), Sabah's Forestry Department has sanctioned the use of an alternate route via a less environmentally sensitive area for the ascent from the Taviu River up Taviu Hill. This area is also restricted, and a special permit is required.
Sabah's Tourism Minister, senior government officials and Tham Yau Kong were formally presented with copies of the Defence Department map by a representative of the Australian Government at Sandakan on Anzac Day 2012. A copy is also on display at the Sandakan Memorial Park and is on-line. http://www.dva.gov.au/commems_oawg/OAWG/news/Documents/march_route.pdf
A word of caution:

Before you sign up for a trek with any tour company, make sure that the local company facilitating the trek holds a current and valid tour operator's licence, issued by the Sabah government, has an emergency evacuation plan, provides safe and well-maintained vehicles that are licensed by the government to carry tourists, and employs an adequate number of fully-trained and experienced English-speaking guides. To help ensure your safety and well-being, TYK has its own designated company vehicles equipped with seat belts and with experienced drivers on call 24 hours a day and employs only fully licensed tour guides and, while trekking, highly-skilled jungle and mountain guides – usually one for every two trekkers. Details of TYK's tour operating licence appear in the booking details, above.